Quick Enquiry
Want to find out more about this product or have any questions?
Simply fill in our Quick Enquiry Form and we will contact you back as soon as possible.
Alternativly, give us a call on 0330 057 9550.

GrecaPLUS+ is a range of a corrugated polycarbonate sheet, 1000mm wide, available in a range of thicknesses and profiles, with either a triplewall or honeycomb internal structure.
Manufactured to the required length and benefitting from thermo sealed sheet ends, GrecaPLUS+ is designed for the construction of rooflights both in single and multiple sheet application and is designed to perfectly overlap the sides of any corrugated composite panel or metal profiled sheet.
For barrel vault applications, GrecaPLUS+ is also available pre-curved to either 3500 mm or 6000 mm curving radius.
Free from microcracks and tensioning, GrecaPLUS+ has excellent spanning and loading capabilities, high light transmittance and a superior protection against UV rays. It has good resistance to accidental impacts, extreme weather, temperature fluctuations and hail.
It is self-extinguishing as per EN 13501-1 B s1 d0 (equivalent to UK Class 0), has good thermal insulating properties and is quick and easy to install.
GrecaPLUS+ is available in clear and opal sheet finishes as standard - a range of attractive translucent coloured and bi-coloured finishes are also available subject to minimum order levels.
GrecaPLUS+ is complemented by a wide range of finishing accessories.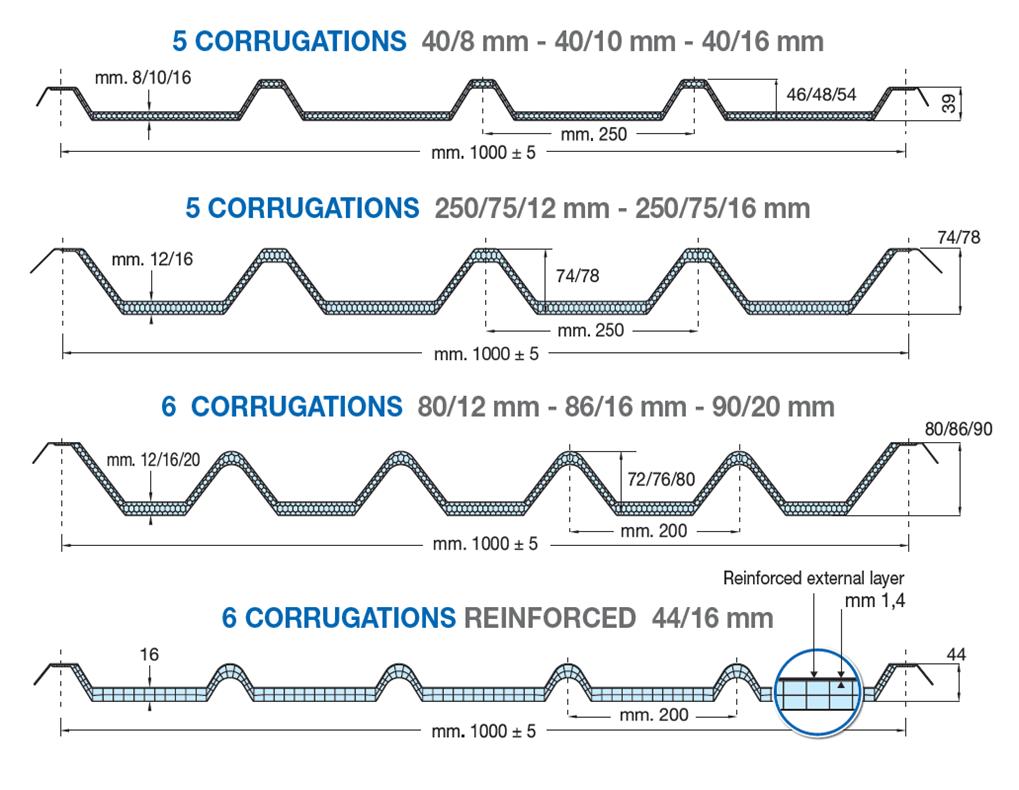 GrecaPLUS+ 5-Corrugation Flat & Curved
40/8, 40/10, 40/16 mm and 74/12, 78/16 mm
U = 2,70 - 2,50 - 1,99 and 2,30 - 1,99 W/m2K.
GrecaPLUS+ 6-Corrugation Flat & Curved
80/12, 86/16, 90/20 mm and 44/16 mm Reinforced
U = 2,30 - 1,99 - 1,80 and 2,20 W/m2K.
Gallery