Quick Enquiry
Want to find out more about this product or have any questions?
Simply fill in our Quick Enquiry Form and we will contact you back as soon as possible.
Alternativly, give us a call on 0330 057 9550.

Module 500/16 - A versatile vertical glazing system offering high light transmission and good thermal insulation combined with simple installation.
Ideally suited to external high and low level glazing applications up to c.1200mm - Module 500/16 can also be utilised for internal back lit feature walls, partitions and displays.
It offers the architect and contractor a range of design advantages:
Available in long lengths - sheets manufactured up to 8m if required
Good insulation - thermal transmittance (U-value)of 1.99 W/m2K
Filters 99% of harmful UV rays whilst transmitting diffused light
Withstands temperature variations between -40°C and +130°C
Minimum of system components for quick, simple and secure fixing
Choice of clear and opal sheet as standard
10 attractive sheet colours also available to order with min quantity
Silver anodized or RAL/BS colour powder coated aluminium perimeter trims
Fully recyclable materials with minimal environmental impact
B-s1-d0 Euroclass fire rated (equivalent UK Class 0)
20mm, 25mm &

40mm

thick sheet variants also available

Module 500/16 is an interlocking multiwall polycarbonate system which uses 16mm thick interlocking sheets manufactured to length in a standard 500mm panel widths.
The Module 500/16 system transmits high levels of diffused natural light into any building whilst providing good thermal insulation (U-value: 1.99W/m2K).
The 500mm x 16mm honeycomb structure sheets are located within durable anodised silver aluminium framing trims at the top and bottom of the glazing.
The flush face finish of the system makes it an appealing choice for use as ribbon glazing, within internal partitions and false ceilings as well as for feature lightwalls.
Module 500/16 sheets are available in clear and opal finishes as standard. For special orders they can also be supplied in a range of colour tints and the system's aluminium profiles can also be powder coated to any standard RAL or BS colour.
All sheets are manufactured to length and factory sealed - with typical delivery to site made in around 4 weeks from order.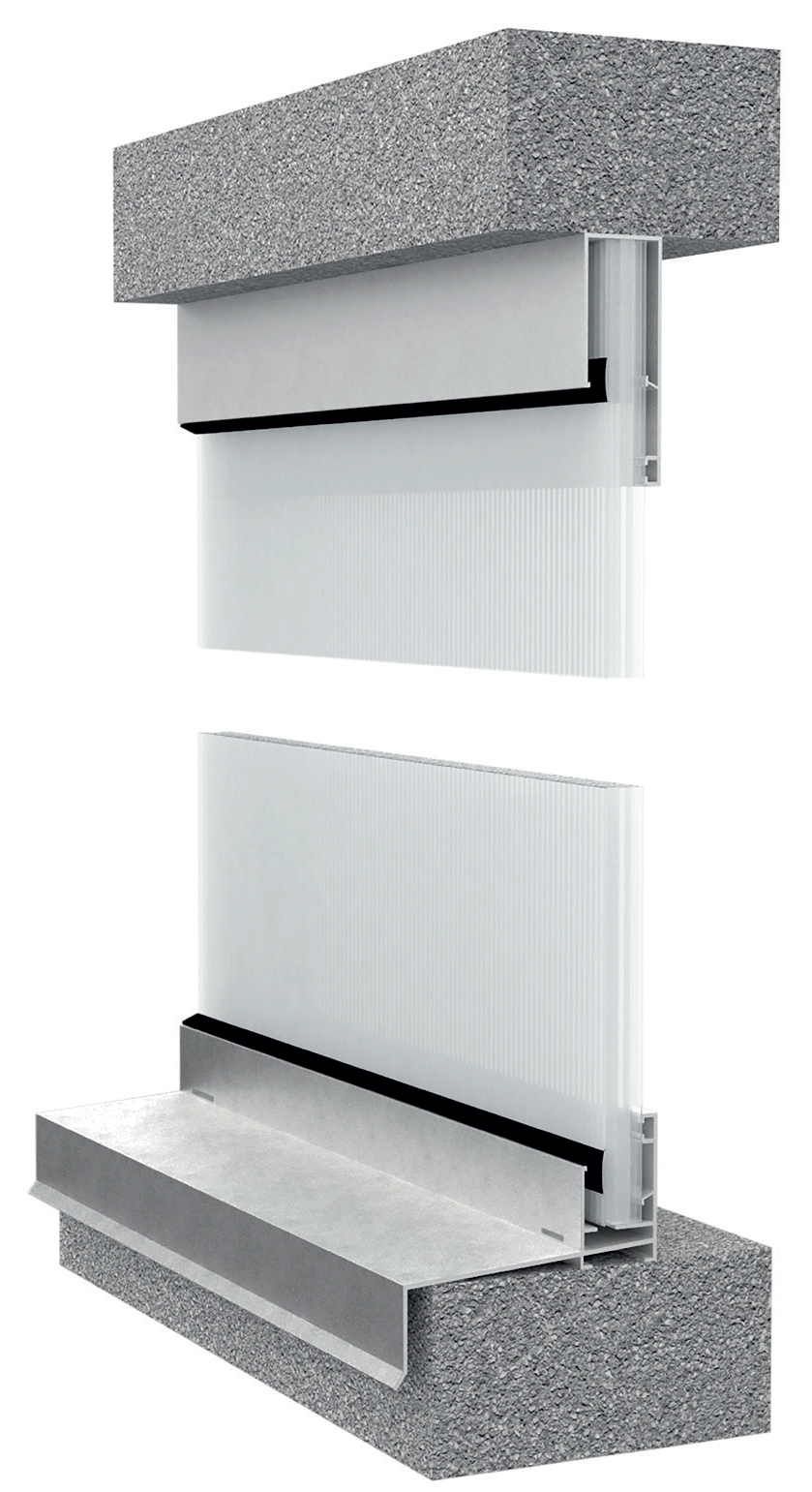 Opal Module 500/16 utilised as a light-wall at the Triangle shopping Centre in Manchester
Gallery